Before we actually went out to look at homes I had some grand ideas of want I wanted in our home. That's not to say I expected our first house to actually have these things
(I'm not one of those people on HGTV that don't understand you can paint over colors you dislike), but I do think having a clear idea of what you like is a good thing
. Of course, most of what I like comes straight from the Hollywood movies that I grew up
watchingand loving. These are just a few of my favorite homes from movies:
It's a Wonderful Life
Not only is It's a Wonderful Life my favorite movie, but it features my favorite movie house of all time. I love that the Old Granvile house George and Mary move into is historic and has sentimental value. I also love that even though the house is worn down, Mary does not fixate on its numerous issues (like a leaking roof), but sees the potential and ends up creating a beautiful home full of original wood features and charm galore.
Home Alone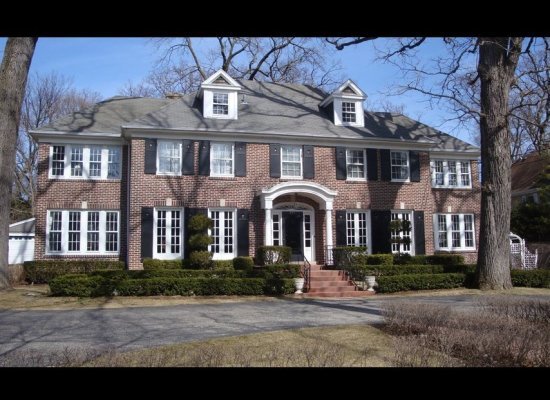 If I had the 1.6 million this house sold for last March, I would have happily packed my bags and moved to the suburbs of Chicago. This huge house is still my dream home. I've always loved the look of brick homes and who wouldn't want to make that awesome attic into their own personal hideaway? Assuming you're not left up their while your entire family goes on vacation, of course.
National Lampoon's Christmas Vacation
The Griswold home just looks like the quintessential family home to me. It could be the thousands of Chirstmas lights, but I remember wanting a house just like it for the holidays, it just seems so magical.
Clueless
Lest you think that I only watched Christmas movies when I was younger, here is proof that I had other highbrow movie interests. I pretty much thought everything in this movie was the epitome of high fashion (please note, I was in sixth grade when this movie came out), including Cher's Beverly Hills mansion. The lavish entryway and pool were just two of my favorite features, after Cher's unbelievable closet and classic columns that dated all the way back to 1972.
What's your movie dream home? Anyone want to watch Clueless with me this weekend and then quote it excessively?! As if!