I've dreamed about what my future home would look like and contain for years (secret passageway ftw), but it was always just a fantasy. In the real world of DC real estate, my fantasy home translated into a lot of money. As in,
way
more money than we had to spend. Therefore, we had to prioritize and decide what were truly our wants and needs.
Although we did a ton of research online to know what we could reasonably expect to get within our budget, it was difficult to know what was truly important to us until we actually started seeing open houses for ourselves and realizing what was important.
After seeing a handful of houses, we tailored our needs to the bare essentials, which included:
1500+ square feet
-If we were going to invest a large chunk of money into a home we wanted it to be a place we could grow into. Coming from a <800 square foot apartment, we settled on this size as something bigger than what we were used to
, yet still manageable.
Good neighborhood
-even though we don't have kids we wanted to live in a family friendly neighborhood because we're old and tired of dealing with drunken college kids on a regular basis. Along with this, we wanted to live somewhere safe and within one of our preferred neighborhoods.
Ceilings and stairways tall enough for Brian
-my husband is six feet, four inches tall, which we learned was too tall for many of the houses we liked before we visited the house. We knew this could be an issue, especially since we were focused on older homes, but obviously there is no point in considering a home in which he wouldn't be able to stand in a large portion of the house, like the basement or converted attic space.
Avoiding this situation at all costs-
via
....and that's it. We didn't have the budget or the buyer friendly market to allow us to be demanding and we knew it, so kept our needs to things we felt were truly needs.

Even though our expectations were reasonable, I was really hoping to also get a few of our wants from our home as well:

3+ bedrooms/2+ bathrooms with all bedrooms on the same level-I wanted 3 bedrooms and two baths not only for convenience, but also looking forward the resale value is much better. I learned from open houses that I preferred the rooms to be on the same level. My room growing up was in the basement and it just doesn't feel like part of the main house.

Good location-not to be confused with good neighborhood, location (as defined by Brian) includes proximity to metro, restaurants, and other shopping. We vacillated on whether we wanted to be within walking distance to the metro, bit ultimately decided it was not a deal breaker.

Basement-as I mentioned previously, my room in our house growing up was in the basement, and although I didn't want a bedroom in this basement, I still wanted one in our home. Growing up in the South, Brian never lived in a home with a basement, so this was not a requirement for him and hence, why it was not a need.
Walk in closet
-do I need to explain this? Who doesn't want ample space for clothes, shoes, and accessories in their home?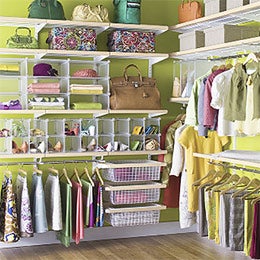 En Suite master bathroom
-I really,
really
wanted an en suite master bathroom. It's just convenient and luxurious.
Garage
-although we prefer to use public transportation when we can, I would love a place to park my beloved Beetle. Unfortunately, garages are rare in this area, so I didn't want to rule a house out just because it didn't have one.
What are your deal breakers for a home?